We're back. And

$500,000

says you still can't beat the spheres. Want to play?
ANYONE CAN /IN ANYTIME IN THIS THREAD, EVEN IN THE MIDDLE OF A GAME.
(no actual cash prizes awarded)
---
THE RULES OF (O)PTIMIZE:
IN BRIEF:
You can win money in each of the four colorful sectors by bringing target numbers to its players in the hopes that they can beat them with their color spheres - the game's iconic sealed containers. However, you only win one sector's cash at the Finale, and as golden spheres vanish, your odds of winning each payoff are constantly changing.
Between the four sectors, where the cash potential is higher, the odds of actually winning it are riskier. Can you win the optimal payoff?
FULL RULES:
1. The game is played in four different-colored sectors: red, green, blue, and "ultraviolet". Each sector is attached to a correspondingly-colored money ladder and a certain quantity of golden spheres containing its color. The game's Mega Monitor will display how much money and how many golden spheres each sector has.
Each sector also has 5 players, who each have a set of 5 color spheres. Each set of color spheres contain all the digits 0-4 among them in a random order.
One contender plays. He or she is spotted a random "target" number from 0-3 to start the game.
2. Each turn consists of two parts. First, the contender picks a player from the gallery, and that player will open one of their five color spheres. If their revealed number is higher than (not equal to!) the target, their sector's money ladder advances one space up. If not, too bad.
3. Then, one golden sphere is opened and removed from the game
(that's one after EACH turn!)
. The order they are removed in is randomly determined. Two exceptions:
* if a 4 appeared on that turn, the next golden sphere in line is skipped, and that same player instead opens a second color sphere from their own set. This secondary selection does not affect their sector's money ladder, only the subsequent target (see #4).
* if all remaining golden spheres contain the same color, no more are removed.
4. The process then repeats, but the target for each subsequent pick is the number of the last color sphere opened. (a 4 can never be a target due to the "secondary selection" rule). No player may be selected twice.
5. Once there is no more cash that can possibly be won, the game then transitions to the Finale. Here, the contender simply opens one of the remaining golden spheres and wins all the money on that color sector's money ladder. The other sectors' ladders pay nothing, no matter how high they went.
FORUM RULES:
1. You will be prodded instantly when it's your turn as player and 24 hours after it becomes your turn as contender. You're welcome.
2. Contenders' games will be paused and we will move on after 96 consecutive hours of inactivity.
3. Players have 24 hours to select their spheres after their prod. If the deadline is missed, don't sweat it, we'll simply autopick with my magic dice.
4. Players, please pick two spheres on your turn - one for your main selection, and one in case a "secondary selection" is required should you pick your 4 sphere. If you only give me one pick, you entrust your other to the magic dice.
5. I encourage you to make a spectacle out of yourself as you play the game or pick spheres, but also encourage you in that case to bold your final action in case your crazed ranting fuzzies up your intentions. Fuzzy is no good here.
---
COMPONENTS
Mega Monitor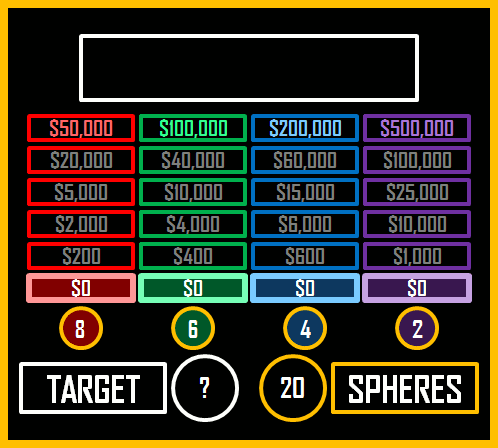 (Red's) Color Spheres
NAME





---
NAME





Golden Spheres




















---