Current Map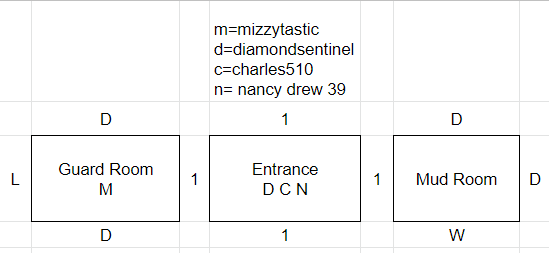 Link Randomizer(1d72)
1-13 = Wall(impassable)
12-25 = Hidden Door(3)
26-40 = Locked Door(3)
41-67 = Regular Door(1)
Roll 1d2 with each link - if 1 use above, if 2 use open passageway(1). Ranges will get smaller as links are taken. For example, if a wall is taken it will go down to 1-14 instead of 1-15 for the next turn to represent that link is on the table and not available.
Monster Color and Monster Move Die
Roll 1d6:
1=Purple
2=Yellow
3=Orange
4=Blue
5=Green
6=Red
Important Rules to Remember:
*Only one player in the same or adjacent room may help in a fight, and you cannot take it back once you agree to it.
*You can only reach level 10 by beating a monster. To win the game you must go back to the entrance as a level 10 character and fight the Boss Monster, which is a monster automatically adjusted to Level 20(plus any cards that modify it).
*You can only trade items with someone in the same room. You may drop items if you wish.
*Only items can be traded, not DXM cards.
*Items, by definition, are cards with a gold value on the bottom.
*You normally run away successfully on a roll of 5 or better on 1d6.
*You can discard race and class cards at any time to the discard pile.
*You can have two items in your backpack.
*You may search any eligible room for 1 move. You may get treasure, gold, or even find a monster.
*Using a deal in a room takes one move.
*When a monster spawns it gets a random color. When that color is yours you get an extra die when you fight it. When you kill it you get an extra DxM card.
*You get a DxM card when you enter an unexplored room.
*In battle, ties go to the monster unless you are a warrior.
*You can never go below level one.
*You can try to activate a d10 power on a race or class card once per turn. You are successful if you roll below your game level on 1d10.
*You can ask players for bribes if they want your help in battle. The main player has the final say on who the helper is if multiple offers.
*If multiple monsters are in the same room, they fight as a group, and you add their levels together. You can not choose to fight one and not the other. If you lose, you must run away from both.
*You automatically lose a hit point for losing a battle against each monster you lose to.
*You can only have one big item at a time.
*You can only have five cards in your hand at the end of your turn. You can play cards to get your hand down to five, then any excess cards go to charity. Charity is the lowest level player. If you are the lowest level player, charity is discarded.
*You can sell items worth 1000 gold you are carrying to go up a level.
*Items you can wear/carry are: 1 headgear, 1 footgear, 1 armor, 2 weapons(or 1 2 handed weapon).
*You can only attack monsters, not each other. There are cards you can play that hurt other players though.
*I have the final say on any rules questions.