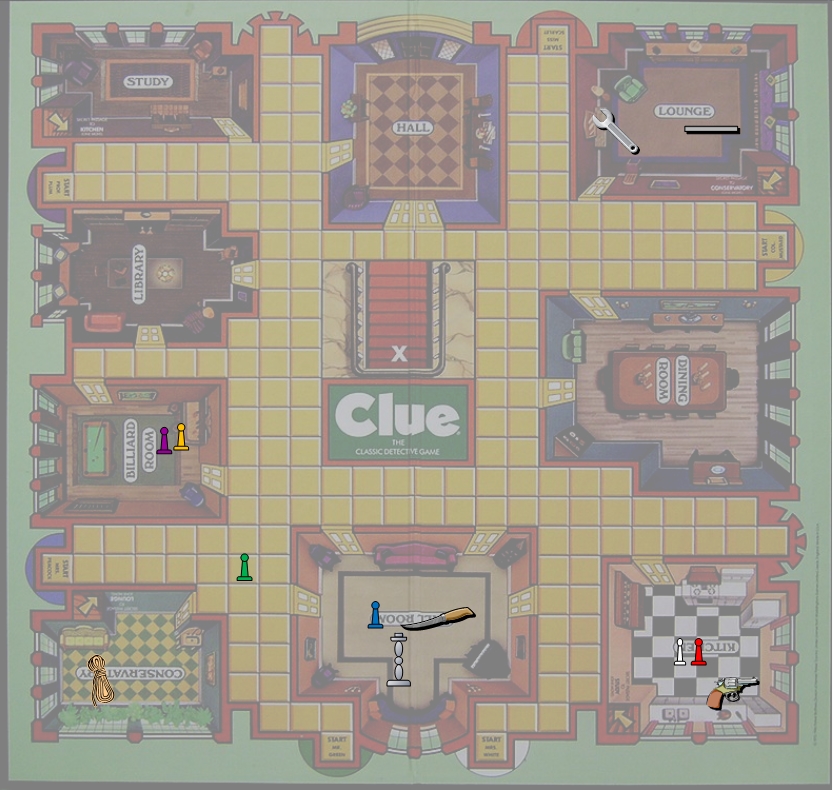 Board is current to post #
200
I stole these rules from strangercoug!!
RULES
The game will be played to the rules listed here. If you need a detective sheet, you may get it from this source. (I recommend printing one off even if you are in the replacement queue so catchup is faster.) The rest of these rules are additions and clarifications by me only.
When you are PM'd your cards, confirm receipt by PM'ing me back in the order in which you want me to give priority in the event you have multiple cards that could disprove a suggestion. (This order may be changed at any time; just PM me with the new order.) If you PM cards yourself, you must wait for the players between you and the suggesting player (if any) to pass and I must also receive the PM.
When rolling, tell me the exact path you wish to take.
Suggestions and accusations must be in bold to count. If you are not ready to make an accusation after your suggestion, bold the words

End turn

to officially allow the next player to roll. If your move does not take you where you can make a suggestion, your turn automatically ends thereafter by default.
It's blurry in the source photo, but for players unfamiliar with the board, one secret passage connects the conservatory with the lounge and the other connects the kitchen with the study.
PLAYERS
Miss Scarlet:

lilith2013

Col. Mustard:

strangercoug

Mrs. White:

enomis

Mr. Green:

nopoweroverme

Mrs. Peacock:

krazy

Prof. Plum:

creativemod1
REPLACEMENTS
datisi
nancy drew 39
pine
brighteningskies