Mushroom Kingdom Mafia II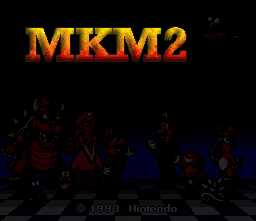 After the successful defence against the attack of Bowser and his army, the people of the Mushroom Kingdom decide to strike back and get rid of Bowser's army once and for all. They plan an assault on Bowser's Castle, the residence of the now slain King of the Koopas. After the preparations they successfully get inside the castle, because without their great leader the guard turns out to be very ineffective. But inside, it is so dark that nobody can see who is who. Again, everybody has to find out who is who in order to kill who they want to kill. Maybe the inhabitants of this castle aren't so helpless after all...
Welcome to Mushroom Kingdom Mafia II! This game is a sequel of
Mushroom Kingdom Mafia
, where the inhabitants of the Mushroom Kingdom successfully defended their beloved Princess against Bowser and his minions. Now, will they also be able to finish the job this time? It is not necessary to have read the previous game, though I highly suggest you take a look to see what you can expect. Enjoy!
Mod
:
Lawrencelot
Back-ups
:
MafiaSSK
and
Flameaxe
Game status
: Day 6
Deadline
: none yet
With 6 alive, it takes 4 real votes to lynch
Alive (6):
-
Cream147
Kast
-Riceballtail
-
Surye
ZEEnon
-ortolan
-AceMarksman
-sirdanilot
Dead (13):
-Shadow Knight, Toad (Mushroom Kingdom), hit by a Thwomp Day 1 (
link
)
-qwints, Yoshi (Mushroom Kingdom), killed Night 1 (
link
)
-
Shinnen_no_Me
Looker
ThAdmiral, Toad (Mushroom Kingdom), lynched Day 2. (
link
)
-
Dubya
WeyounsLastClone, Green Koopa (Bowser's Army), killed Night 2. (
link
)
populartajo, Lakitu (Bowser's Army), killed Night 2. (
link
)
-
pacman281292
semioldguy, Green Parakoopa (Bowser's Army), killed Night 2. (
link
)
-millar13, Boo (Bowser's Army), lynched Day 3. (
link
)
-zwetschenwasser, Buzzy Beetle (Bowser's Army), killed Night 3. (
link
)
-Moratorium, Red Koopa (Bowser's Army), killed Night 3. (
link
)
Empking, Goomba (Bowser's Army), lynched Day 4. (
link
)
-killa seven, Drybones (Bowser's Army), lynched Day 5. (
link
)
Gorrad, Kamek (Bowser's Army), killed Night 5
caf19, Hammer Bro (Bowser's Army), killed Night 5 (
link
)
Ready to jump in (see special rules):
-sirdanilot (jumped in Night 1 (
link
))
-Nyx
-MikeSC6
-dingoatemybaby
-Sironigous
-Seraphim
-Bowwy
-MacavityLock (not until May 20)
-xRECKONERx
-millar13 (jumped in Day 2 (
link
))
Normal Rules
1) Not following the rules could get you modkilled or replaced, depending on which rule. If a role says something that is not in line with the rules, the role has priority.
2) The game will start in Day 1.
3) During the day the players have to vote like this:
Vote: Lawrencelot
. If you switch votes you have to
unvote
first. You can also
vote: no lynch
. If your vote is not in bold or you didn't properly unvote, it will not be counted. A lynch will occur when more than half of the votes is on one person.
4) When someone is lynched or nightkilled, his rolename and alignment will be revealed.
5) Votecounts will appear at the top of every page. If you want to request a votecount, send me a pm or ask for it in bold.
6) You may not discuss this game outside the topic.
7) During the night I will be waiting for players to send in their night actions. If this takes too long, I will set a deadline. The topic will be closed at night.
8) You may not discuss the game in or outside this topic when you are dead. A single "bah" post is allowed.
9) Editing posts is not allowed.
10) Quoting my PMs or any other PMs regarding this game is not allowed. You can paraphrase.
11) When inactivity occurs I will prod or look for replacements, but you can ask me this for specific players too (in bold).
12) After about
3
two
weeks, when no one needs to be replaced and nobody just replaced in, I will set a deadline of 1-2 weeks. At deadline, the player with the highest amount of votes will be lynched, but if there is a
tie
there will be
no lynch
.
13) Mass-claiming is allowed, but not recommended.
14) If you don't agree with any decision I make, or have any questions, send me a PM.
15) You should play to win, to have fun, and to let others have fun. So don't get personal in your discussions. And carefully read the rules below.
Game-specific rules
16) In this game there are no normal roles like vig, doc, etc., due to the items in this game (see below). When someone dies, I will only reveal his rolename and alignment, not his role (example: Player 1, Mario (Mushroom Kingdom), killed Night 1). There is, however, at least one scumgroup, and that is an informed minority, and killing, protecting, investigating etc. might appear in this game just as you're used to.
17) The votes of some roles are worth more than other's votes, so the day might end while it may seem that not enough votes are on one person (or the day doesn't end while it seems someone has enough votes). Therefore, there will be a difference between a
visible votecount
and a
real votecount
. I will not show the real votecount until either of the votecounts has more than half of all votes on one person
, and I will not show the real votecount more than once in a game day
. I will tell you the value of your vote in your role pm and whenever it changes: if your vote counts for 0 you can vote normally but it won't have any effect in the real votecount, and if your votecount is a negative number you can try to prevent a lynch, although none of this is in the visible votecount.
Negative amounts of votes are possible!
18) If the day ends because of a deadline,
the real votecount is not showed
, whether a lynch happens or not. At deadline, the player with the highest amount of real votes is lynched, but if two or more players are tied for the highest amount of real votes,
there will be no lynch
.
19) Everybody has a certain amount of
coins
, which can be used to buy
items
. I will pm you every night to tell you how many coins you have. You only know how many coins you have yourself. It is possible that you will receive more coins during the night, or lose some, but I will not tell you how or why, the only thing you know is how many coins you have.
20) You can
buy
items during the night, and
use
them during the night. This is done by sending me a PM at night in which you say which item you want to buy. But, unlike the previous game, information about the items is not public, and
items are different for each alignment
. The information of the items you can buy will appear in your role pm. These are the items in this game that can be bought:
-All alignments: 10-coin block, letter
-Mushroom Kingdom only: mushroom, 1-up shroom, fireflower, star
-Bowser's Castle only: green shell, red shell, poison shroom, bob-omb
-DK crew only: banana, barrel cannon
-WarioWare only: motorcycle
21) You can only use one item each night. You can only hold one item. You can only buy one item each night. But you can use an item right away when you buy it, or decide to keep it. Buying items comes before using items, so you can't buy an item right after you used one.
22) It is also possible to give coins or items to someone else. This can be done at any time by sending me a pm saying what item or how many coins you want to give, to which player, and whether you want to remain
anonymous
or not. You will get a pm back from me, saying whether the transaction was successful or not, and the other will receive the item/coins right away. The transaction might fail, for example, if you want to give an item to someone who is already holding an item. If the transaction fails, the player who was about to receive an item doesn't get a pm about the transaction.
23) I will not reveal what happens with someone's coins and items when a player dies or gets lynched.
24) In this game, new players might join while the game is on-going. Before they are in the game, they will be in the 'ready to jump in'-list. These people are
not
replacements, they get a role of their own. After someone from this list joins the game, that player will be in the 'alive' list.